I was reading a blog the other day in which a mother who devoted her entire day to homeschooling her two boys felt overwhelmed, and she did not seem to be able to accomplish anything else in her life.
I thought back to the time when I was home schooled by my own father, from age thirteen to age sixteen. My father did not stay home to homeschool me. He continued to work. My mother was the one who stayed at home and prepared the meals and made sure that the household ran smoothly. But my mother was not my teacher. She did not supervise my lessons or grade them or do anything that pertained to my school work. She did prepare my lunch, and she took care of my much younger brother all day. But my father was the headmaster of our school, and he taught all the classes, except for English. Because he was not a native speaker of English, he delegated that task to an English teacher who came by once a week.
Me in my home school T-shirt
Our school was named after the Israeli poet
Once a week, on Sunday, my father would have a long teaching session with me. Sometimes he was quite frustrated with my lack of talent in mathematics. Sometimes I was quite frustrated by his uncompromising teaching method that did not adapt to my limitations. But even though I did not accomplish everything he had hoped for me, the homeschooling was not a complete failure, as I was able to gain knowledge of history and languages and literature that is far greater than most American students get in high school. At sixteen, I began college.
Whatever regrets my father may have had about the homeschooling experiment, his entire self-worth was not tied into it, as he never gave up his life's work to engage in it, and he continued working on many other projects, both at his place of employment and at home, while he was also running our little home school. He was not so overwhelmed that everything else fell by the wayside. And as a result, I also did not see him as exclusively my teacher or caretaker. In fact, even when he was my only teacher, he was never my babysitter.
I got to know my father as a person, and I did not judge him solely on his success or failure as a teacher -- or as a parent. I was very much aware of his other accomplishments
My father and I at the airport with one of his planes
Aza, our dog, is careful as she approaches.
The same thing, I believe, was true of the relationship of Theodosia Burr with her father.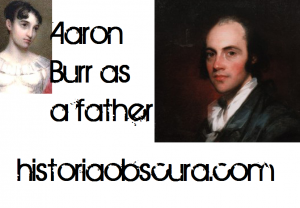 http://www.historiaobscura.com/aaron-burr-as-a-father/
Burr directed Theodosia's studies while serving in the Senate and was always correcting her compositions, even from a distance. However, his duties as a father did not keep him from following other pursuits and having a career of his own. He was not so overwhelmed by directing his daughter's studies that he could accomplish nothing else.
One of the problems with today's conception of homeschooling is that it attempts to replace the public schools, and the public schools keep students occupied all day long, because one of their main functions is to babysit children, replacing the stay at home mother or nanny, more so than the tutor or the father who directs a child's studies while doing something else, too.
Parents do not have to be nannies in order to be good parents. Those who instruct their children do not have to stay home, and even if they do stay home, they can follow other pursuits. A teacher, to be a good teacher, does not have to keep a child occupied all day long. Even a mother who stays home is entitled to some time to herself. But in order to let the mother have that time, you also need to loosen the reins on the children. They need to have some free time, too.